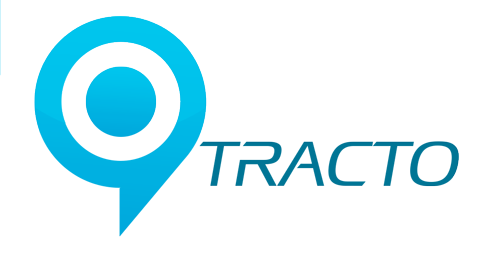 Tracto is web/mobile based platform for field sales and service. It can be used by sales and service employees or customers. Integrated with SAP Business One & hosted on our secure servers, Tracto is a cost effective way of extending your SAP Business One.
Features
Key Features of Tracto
Customer Portals
Get Intuitive, informative, & feature-rich customer portals with Tracto that are easy and elegant for the customer to use.
Supplier Portals
Connect with & manage multiple suppliers through secure supplier portals built in Tracto. Effective supplier network guaranteed.
Sales
Sales activities such as Sales Quotations, Order, Activity, Customer Acquisition, Retention & much more can be configured & managed from Tracto.
Service
Custom all-encompassing dashboards can be created for Customer, Sales, Suppliers, HR, CRM and other services all through Tracto.
Quick Turnaround Time
Thanks to low-code approach, Tracto delivers Quick Turnaround Time for custom development & faster time to market for maximum advantage.
Ready Apps
We have a set of Ready Apps for Sales, Services, & Customers to help you hit the ground running instantly.
Unlimited Users
With Tracto, you can add as many users as you want. There is no limitation on the number of users.
24/7 Accessibility
Tracto is hosted on dedicated, fast, and reliable server farms. Hence, it is accessible 24/7, from anywhere and any device.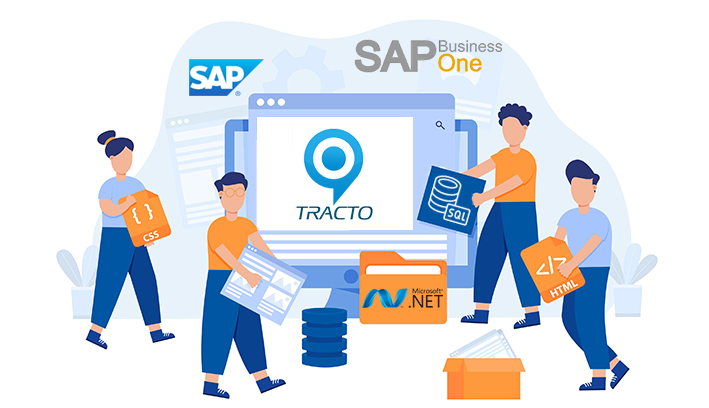 Tracto is a low-code platform that helps to develop Apps & Web Portals Quick for SAP Business One. It lets you easily customize & extend the functionalities of your SAP Business Solution helping you realize its full potential. Contact us today to see what Tracto can do for you.
Tracto is fully compatible & can be securely integrated with SAP Business One – Best ERP solution for MSMEs. It can help you customize SAP B1 down to the last functions & modules in a much easier manner thanks to it being a low-code platform. You can configure CRM, HR Processes, Inventory Management, Field Sales, Employee Self Service (ESS), Marketing Document, Customer Portal, Supplier Portal & much more using Tracto. The possibilities are truly limitless and the best part – its Secure.
Secure SAP Business One Integration.

Custom Functionality.

Clean & Elegant User Interface.

Enhanced Mobility.

Low-Code Platform.

Build & Develop Next Gen Apps & Web Portals Quick.
Using Service Layer API, Accelon has developed numerous web portals and applications that connect seamlessly with the SAP Business One database. These applications & portals help extend and build upon the core functionalities of SAP Business One. Easy to use for the customers, they are accessible by mobile devices and web applications. Experience the new breed of applications designed and developed to broaden the scope of what's possible with SAP Business One.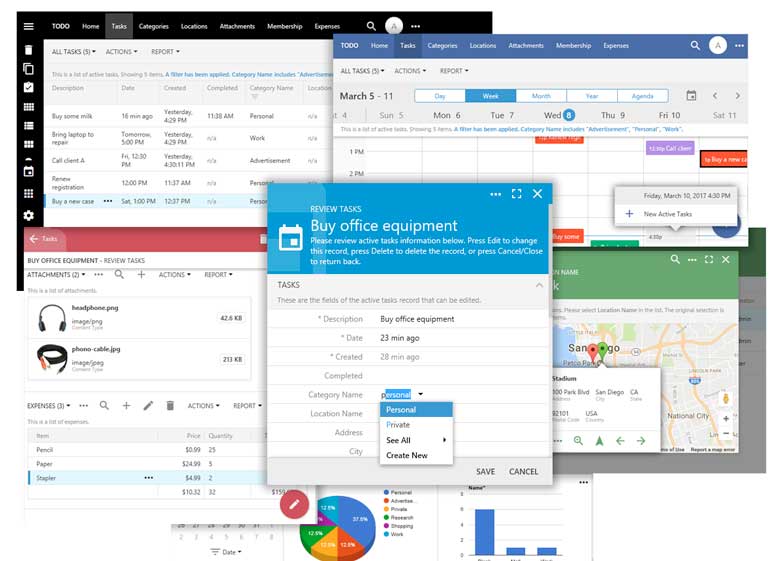 Businesses usually need to deal with, interact with, and provide information to numerous people. A lot of these people are outside your company or continuously on the field. This includes your business partners, like customers and suppliers and also your valuable sales and service staff. At times you might have a large number of such stakeholders – without whose contribution running a successful ERP becomes difficult. At the same time, extending your SAP Business One ERP to all sales and service staff might not be feasible due to costs and technical constraints. Similarly extending SAP Business One to your customers or suppliers is impractical for various reasons. Web-based portals or Mobile Apps come in handy in such situations. These portals/apps are easily integrated with SAP Business One and accessible directly on the internet and eliminating the requirement of buying expensive licenses. Portals can be used for various purposes such as:
Sales Opportunity / Quotations

Sales Orders entry by sales executives, customers

Service Tracking

Reports required for field staff, customers, etc.
Using Tracto, we can build Web Portals and Mobile Apps that allow you to further enhance and expand upon what SAP Business One can do for you by integrating with it. A web portal or mobile app allows you to extend the functionalities of your SAP B1 ERP solution to sales and service employees, customers, and suppliers. We can design integrated portals and mobile-based apps that perfectly integrate with SAP B1 solution and work with both desktop and mobile interfaces, are easy to learn, and are customizable for any requirement.
Over the years we have helped several customers realize the full benefits of SAP Business One by developing integrated portals which integrate with their SAP ERP systems. We also provide reliable and cost-effective hosting for such portals, as well as build complete integration with SAP Business One.
FAQ
A business solution that has rapid turnaround time, affordable, flexible & scalable.
Tracto is web/mobile based platform for field sales and service. It can be used by sales and service employees or customers. Integrated with SAP Business One & hosted on our secure servers, Tracto is a cost effective way of extending your SAP Business One ERP solution.
With Tracto we can develop Ready Apps for your Sales and Service employees, build Customer Supplier Portals that have quick turnaround time and 24/7 access. Plus, there is no cap on users.
With Tracto building of Next Gen Apps and Web Portals is quick. You can add custom functionalities to SAP Business One, extending its functions and enhancing its mobility.
Since Tracto is a product developed by Accelon, there are several parameters that are considered when quoting a price. You can get in touch with our experts for the best possible price for your business.