Accelon delivers timely pixel-perfect reports for SAP Business One that is accurate with SAP Crystal Reports. Our dedicated reports development team has experience with SAP Crystal & other reporting tools and possesses a deep understanding of SAP Business One schema, which is essential in creating quick and effective reports. We have a repository of more than 200 reports which can be utilized for delivering new reports and be modified to suit requirements. These also include statutory reports, like VAT, Excise, Service Tax, etc. or MIS reports for sales, purchase, finance, production, and more. With SAP Business One and our reports, we can assure you of swift and precise reports that provide critical business intelligence and aid in decision-making.
Apart from the readily available in-built report formats, customers can get SAP Crystal Reports created for transactions and analytical reports or document layouts. Our dedicated reports development team is experienced in using these tools and their deep understanding of SAP Business One helps them create new reports from scratch swiftly. Our team can develop two types of reports – SAP Crystal Reports (Custom Reports) & Standard Reports.
SAP Crystal Reports (Custom Reports)
SAP Crystal Reports software can create Custom Reports and do much more. It turns data sources into interactive, actionable information that is accessible both, offline & online. The reports created in the software give you deeper insights into business information which leads to a competitive advantage. These reports can also be exported to the format of your choosing such as PDF, XML, or MS Excel. This means that you can use commonly available applications such as Excel or PDF readers to view reports & can access them from Mobile Devices, Applications, and Web Portals.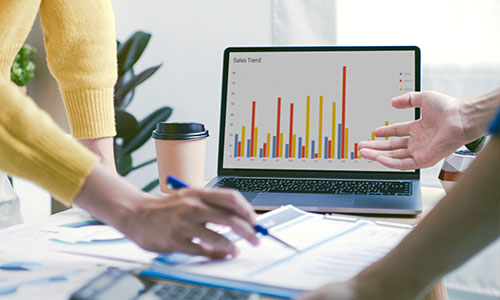 Our reports development teams can develop standard reports such as Sales Registers, Purchase Register, Business Partner Ledger, Customer Aging Reports, TDS Reports, Inventory Aging Reports, Inventory Transfer, GSTR, & more. Everything can be customized and tweaked as per your criteria to get the exact report you want about your business & operations from SAP Business One. The best part, since they are industry standard reports they can be deployed quickly and effectively with minimal effort in the shortest amount of time.
Whether it is a Custom SAP Crystal Report or a Standard Report you require, you can rest assured that our experts will generate timely and accurate reports for you.