Accelon delivers timely pixel-perfect reports & accurate analytics for SAP Business One with SAP Crystal Reports, SAP Analytics Cloud (SAC), & Power BI. Our dedicated reports development team has experience with the reporting tools and have a deep understanding of SAP Business One schema, which is essential in creating quick and effective reports. We have a repository of more than 200 reports which can be utilized for delivering new reports and be modified suit requirements. These also include statutory reports, like VAT, Excise, Service Tax, etc. or MIS reports for sales, purchase, finance, production etc. With SAP Business One and our reports, we can assure you timely and accurate reports & decision making analytics.
Our experts develop both Standard, & Customized Reports/Dashboard for you.
SAP Business One comes with a plethora of options for reporting.
Apart from the readily available in-built report formats, customers can get Crystal Reports created for transactions and analytical reports or document layouts. Crystal Dashboard Design can be used to create intuitive dashboards from data coming from various database source such as SQL servers, SAP HANA etc. & can be easily viewed in a browser of desktop client.
Our dedicated reports development team is experienced in using these tools and have a deep understanding of SAP Business One schema, which is essential in developing reports in a quick and effective manner. Our repository of more than 200 reports can be utilized for delivering new reports and be modified to suit the requirements. Building new reports from scratch isn't a problem either.
Our reports development teams can develop standard reports such as Sales Register, Purchase Register, Business Partner Ledger, Customer Aging Report, TDS Report, Inventory Aging Report, Inventory Transfer, GSTR, & much more. Everything can be customized and tweaked as per your criteria to get the exact report you want about your business & operations from SAP Business One. The best part, since they are industry standard reports they can be deployed quickly and effectively with minimal effort in a shortest amount of time.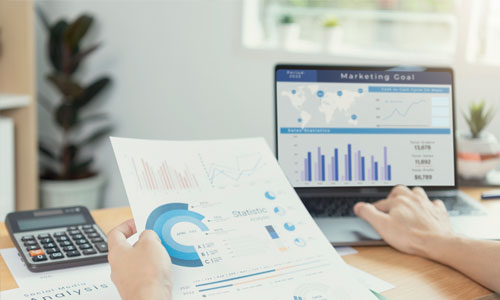 SAP Crystal Reports software can create Custom Reports and do more. It turns data source into interactive, actionable information that is accessible both, offline & online. The reports & dashboards made in the software give you a deeper insight into business information which leads to competitive advantage. These reports can also be exported to the format of your choosing such as PDF, XML, and MS Excel. This means that you can use common available applications such as Excel or PDF readers to view reports & can access them from Mobile Devices, Applications, and Portals.
Whether it is a Standard or a Custom Report you require, you can rest assured as our experts will generate timely and accurate reports for you.
Our experts are well-versed with both SAP Analytics Cloud & Power BI and can build Informative, & Intuitive Dashboards that will provide you with Comprehensive Business Intelligence & Analytics.
Data Analytics is a huge part of Business Intelligence. Intelligence that helps you outsmart your competition. SAP Business One is comes equipped with analytics options. You can create multiple dashboards where you can see all the important analytical information required by you from data coming from SAP Business One. This gives you a transparent bird's-eye view to analyse anything and everything at once, giving you the power to make impactful decisions for your business.
SAP Analytics Cloud is SAPs own cloud-based analytics tools that gives you access to – Business Intelligence (BI), Augmented Analytics, Predictive Analytics, and Enterprise Planning, all in a single suite. It lets you explore data across the organization & link multiple operations seamlessly for a better overall view and analytical advantage. It is however only accessible through a browser and has no native application that can be installed on devices.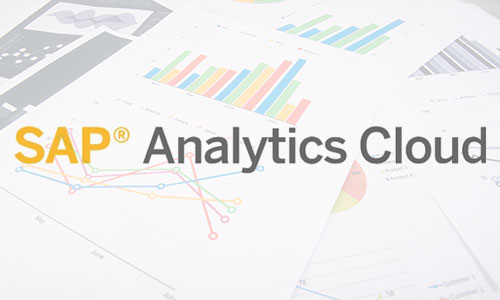 Power BI is Microsoft's business intelligence & analytics software that can be easily integrated with SAP Business One. It lets you build Custom Dashboards where you get to pick, design, & filter data you want at a glance from it. You can have multiple dashboards & workspaces at once. Power BI can also connect to multiple data sources such as SQL, SAP HANA, etc. & the reports can be exported to formats such as Excel & CSV. You can manually refresh or schedule refresh for live analytics to make sure that you are up-to-date at all times. Best part, not only is it cloud based but also has a separate native application for desktops for developers