Run your Apparel & Footwear business with the most comprehensive ERP solution for it – SAP Business One + FashionNx. Experience unmatched end-to-end functionality for CRM, Manage Complete Product Lifecycle, Inventory, Manufacturing, & Centralize Operations like never before.
Features
Spin.Knit.Weave. All in Style.
Product Lifecycle
Get accurate data about inbound and outbound shipments, item location, inventory with SAP Business One. Scale your production.
Operations
With Accelon's SAP Business One, you can control and manage the daily operations with the quickly available information like alerts, approvals, currency exchange rates, internal mails, and import-export values etc. Also, you can regularly maintain your functions of the system such as backups.
Inventory
With Accelon, you get a solution that handles everything related to inventory. Right from item listing, prices, special elements in purchase and sales. Run regular inventory updates and check availability, and manage quality standards with special pricing.
Finance
With SAP Business One textile ERP software, get a complete bunch of tools to streamline your accounting operations. Automate everyday financial tasks like maintenance of ledger, journal, taxes, and enable your business with multi-currency transactions.
CRM
The unified CRM from Accelon through SAP Business One helps your continuously keep in touch with the customers to maintain better relations. It helps you know their demands through feedbacks.
Analytics
Thanks to its two-way information flow, SAP Business One offers real-time analytics and reporting. With Accelon, easily get a report on a weekly or monthly basis.
Spin the success story of your Textile Business with SAP Business One
Extend your spinning capabilities beyond the common yarn
There's always a need for textile ERP software to effectively plan the processes like cutting, sewing, printing, knitting, shipping, and tracking of apparel and textile.
Accelon's SAP Business One for textile industry brings control to the systems that hold the informational backbone of the overall supply chain.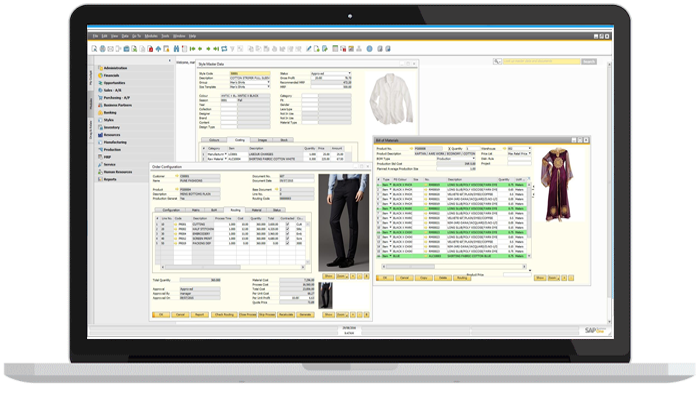 FAQ
SAP Business One + B1Bazaar is a customized solution that works wonders for the retail industry. It offers complete POS solution that provides both, front and back end functionalities.
Additionally it also lets you streamline & centralize business processes, operations, manage inventory, finances, CRM, provides latest critical analytics & data and gives a comprehensive view of your business at one place.
That's not all, with SAP B1+B1Bazaar you can also manage stores, whether it is a single store or a large chain. Since it is optimized for all kinds of retail businesses, it can easily manage grocery store, fashion boutique, high value electronics, and supermarkets.
Plus, if you're an e-commerce player that has online stores then it can help you manage it as well. Such functionalities and features make SAP Business One the best for any retail business.
Yes, you can easily connect and collaborate between your head office and store(s). SAP B1 & B1Bazaar's communication functionalities allow you to keep in touch with your employees and fellow workers.
Through various messaging systems & calls you can easily communicate across the company and keep tabs on the various activities and processes as and when they happen so that you don't miss a thing. All the aforementioned are easily synchronized between the HO and stores once connected.
SAP Business One can be deployed in three available options:
On-premise – Deployed on your IT hardware and infrastructure.
On cloud – Deployed on a Cloud Hosting Service of your choosing.
Hybrid – A mix of both On-premise and On cloud.
If you find yourself confused between the options then fret not as our SAP experts will help you figure out the best deployment option for your business based on its unique requirements.
Yes, your data comes with you. Our SAP team ensure safe transfer of your data from your legacy system to SAP Business One. They facilitate seamless data migration and keep you updated regarding the progress.