SAP Business One + FashionNx for ERP for the Textile Industry
Run your Textile, Garment, & Apparel business with the most comprehensive ERP solution for it – SAP Business One + FashionNx. Experience unmatched end-to-end functionality for CRM, Manage Complete Product Lifecycle, Inventory, Manufacturing, & Centralize Operations like never before.
With Accelon as your partner, you get years of successful experience in the integration and implementation of SAP Business One for the Textile Vertical. We ensure we fine-tune & maximize your gains in your SAP investment.
Features
Key Features of SAP Business One for the Textile Manufacturing Industry
Dynamic Designing
SAP Business One smoothens one of the most crucial textile processes – designing. You can generate samples, finalize patterns, and schedule their production, all from within the ERP solution.
Inventory management
Be in complete control of your inventory at all times on all levels of your organization. Access warehouses, monitor stocks, get notified when it nears depletion and restock seamlessly.
Adaptable Scheduling
SAP B1 textile solution provides flexible scheduling options that let you perform multilevel scheduling and allows WIP tracking as well as the ability to plan costs based on capacity.
Track Order Statuses
You can easily view and track the order statuses in SAP Business One. It also gives an in-depth look into the raw material consumption of the order and gives an accurate estimation of its completion.
Seamless Production
In SAP Business One you can scale production processes in line with the accurate data of the inbound and outbound shipments and make the production experience a seamless one.
Finance
SAP Business One has extensive financial tools to help you manage and run accounting operations with ease. You can automate recurring financial tasks like journal maintenance, ledgers, taxes, multi-currency transactions and more.
Analytics & Reports
SAP Business One has exhaustive Analytics and Reporting options that generate accurate reports and analytics without a single error. These provide much-needed business intelligence to stay ahead of the competition at all times.
Customer Relationship Management
Customer Relationship Management (CRM) is a breeze in SAP Business One. It lets you keep in constant touch and take feedback from your valued customers. This not only helps in getting aware of the demand but also enhances your relationship with them.
SAP Business One for Textile & Garment Manufacturing
SAP Business One helps streamline integral and peripheral business processes, thereby aiding timely manufacturing and delivery of optimum quality goods to customers.

Brings much-needed efficiency to the supply chain process through effective coordination between manufacturing, distribution, suppliers etc.

Optimizes operational costs right from implementation to the final use of the solution on a day-to-day basis.

Improves and strengthens customer relationships thanks to in-built CRM features that allow for effective demand management and feedback mechanisms.

Takes productivity and coordination to the next level thanks to enhanced communication between multiple departments.

Provides WIP tracking of stocks as well as open orders and their statuses. Helps in Flexible planning and waste management as well.
Spin the success story of your Textile Business with SAP Business One
Extend your spinning capabilities beyond the common yarn with SAP Business One.
There's always a need for textile ERP software to effectively plan the processes like cutting, sewing, printing, knitting, shipping, and tracking of apparel and textile.
SAP Business One for the textile manufacturing industry brings control to the systems that hold the informational backbone of the overall supply chain, manufacturing and end-to-end processes.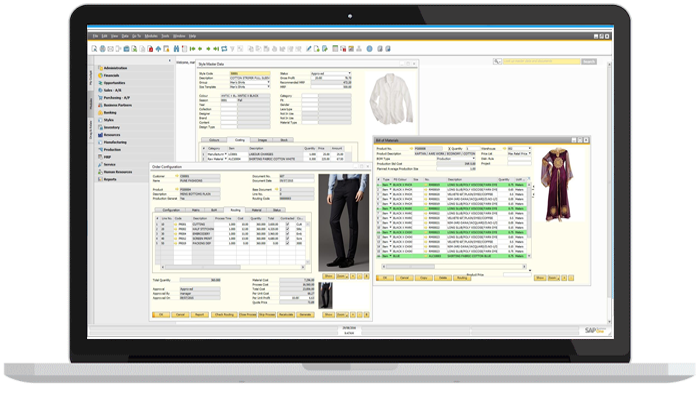 FAQ
SAP Business One + B1Bazaar is a customized solution that works wonders for the retail industry. It offers complete POS solution that provides both, front and back end functionalities.
Additionally it also lets you streamline & centralize business processes, operations, manage inventory, finances, CRM, provides latest critical analytics & data and gives a comprehensive view of your business at one place.
That's not all, with SAP B1+B1Bazaar you can also manage stores, whether it is a single store or a large chain. Since it is optimized for all kinds of retail businesses, it can easily manage grocery store, fashion boutique, high value electronics, and supermarkets.
Plus, if you're an e-commerce player that has online stores then it can help you manage it as well. Such functionalities and features make SAP Business One the best for any retail business.
Yes, you can easily connect and collaborate between your head office and store(s). SAP B1 & B1Bazaar's communication functionalities allow you to keep in touch with your employees and fellow workers.
Through various messaging systems & calls you can easily communicate across the company and keep tabs on the various activities and processes as and when they happen so that you don't miss a thing. All the aforementioned are easily synchronized between the HO and stores once connected.
SAP Business One can be deployed in three available options:
On-premise – Deployed on your IT hardware and infrastructure.
On cloud – Deployed on a Cloud Hosting Service of your choosing.
Hybrid – A mix of both On-premise and On cloud.
If you find yourself confused between the options then fret not as our SAP experts will help you figure out the best deployment option for your business based on its unique requirements.
Yes, your data comes with you. Our SAP team ensure safe transfer of your data from your legacy system to SAP Business One. They facilitate seamless data migration and keep you updated regarding the progress.