B1Bazaar, built on top of SAP Business One, is an all-around ERP solution made specifically for the retail industry. Manage inventory and other essential retail processes with ease and streamline your business like never before. Optimized for all kinds of retail businesses, it can manage a single store as well as chains of stores & supermarkets.
Features
ACCELON brings a robust solution through SAP Business One for retail industry
Point of Sales (POS)
SAP Business One offers a full-fledged ERP for the retail industry and supports easy integration with multiple entries. This integration allows the handling of multiple data for micro-level operations through user-supporting terminals.
Operations
SAP Business One with its inbuilt capabilities like drag and drop across the various distribution channels, can execute scheduled deliveries to different regions once.
Inventory Management
SAP Business One allows complete control over collaborative merchandising with a credit management system that simplifies various elements of the processes to bring maximum growth.
Finance
Retailers can handle accounting effortlessly with SAP Business One as it offers a wider arrangement of functionalities needed to deal with every financial aspect of your retail business.
Customer Relationship Management(CRM)
SAP Business One and B1Bazaar improve the retail business strengths through various technological ways and manages consumer communication with a much more advanced scope of business activities.
Intelligent Analytics
With SAP Business One, you can optimize both internal and external processes with excellent reports and analytics which can help decrease complications and redundancies involved in the newest retail trends.
Loyalty Programs & Schemes
SAP B1 + B1Bazaar helps you create & define an array of promotions & schemes to boost sales. You can send messages via WhatsApp, SMS, and even e-mail to consumers.
Manage Multiple Stores
You can set up new stores with ease and get them up and running in no time. Optimized for all kinds of retail businesses, you can manage grocery stores, fashion boutiques, chains of stores & even supermarkets.
What SAP Business One offers to Retail?
Increased Sales due to comprehensive control over business processes.

POS operations across single and multiple stores connected with the HO.

Full suite of retail functions for both E-commerce & Brick & Mortar stores.

Access to Critical Information & Analytics that help in making Informed Decisions.

Automation of processes such as merchandising, Inventory, stocks, & more.

Mobility – Available anywhere, anytime & on a device of your choice.
Consolidate Core Functions & Enhance Your Retail Business Seamlessly with SAP Business One
Refine your retail business by seamlessly integrating all your operations
What's the fastest-growing consumer-centric business right now?
Accelon offers a solution through SAP Business One as an ERP for the retail industry by integrating & end-to-end interlinking the comprehensive business elements. The implementation of SAP B1 from Accelon includes digital analytical technologies where consumers can see business growth by expanding and increasing profits.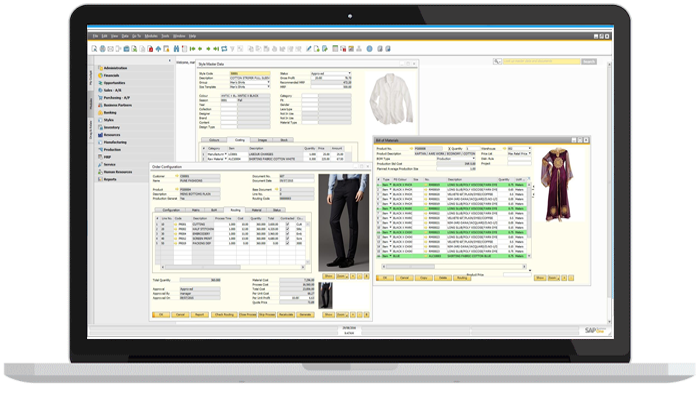 FAQ
SAP Business One + B1Bazaar is a customized solution that works wonders for the retail industry. It offers a complete POS solution that provides both, front and back-end functionalities.
Additionally, it also lets you streamline & centralize business processes, operations, manage inventory, finances, CRM and provides the latest critical analytics & data and gives a comprehensive view of your business in one place.
That's not all, with SAP B1+B1Bazaar you can also manage stores, whether it is a single store or a large chain. Since it is optimized for all kinds of retail businesses, it can easily manage grocery stores, fashion boutiques, high-value electronics, and supermarkets.
Plus, if you're an e-commerce player that has online stores then it can help you manage it as well. Such functionalities and features make SAP Business One the best for any retail business.
Yes, you can easily connect and collaborate between your head office and store(s). SAP B1 & B1Bazaar's communication functionalities allow you to keep in touch with your employees and fellow workers.
Through various messaging systems & calls, you can easily communicate across the company and keep tabs on the various activities and processes as and when they happen so that you don't miss a thing. All the aforementioned are easily synchronized between the HO and stores once connected.
SAP Business One can be deployed in three available options:
On-premise – Deployed on your IT hardware and infrastructure.
On cloud – Deployed on a Cloud Hosting Service of your choosing.
Hybrid – A mix of both On-premise and On cloud.
If you find yourself confused between the options then fret not as our SAP experts will help you figure out the best deployment option for your business based on its unique requirements.
Yes, your data comes with you. Our SAP team ensure the safe transfer of your data from your legacy system to SAP Business One. They facilitate seamless data migration and keep you updated regarding the progress.