Run your Apparel & Footwear business with the most comprehensive ERP solution for it – SAP Business One + FashionNx. Experience unmatched end-to-end functionality for CRM, Manage Complete Product Lifecycle, Inventory, Manufacturing, & Centralize Operations like never before.
Features
Key features of SAP Business One + FashionNx for Apparel, Garment, & Footwear Industries.
Product Lifecycle
Manage complete lifecycle of a style, from creating style master, its costing, BOM and processes required. Define multiple colors, sizes, barcodes and tech packs for the style.
Operations
Provides tools to help you efficiently manage your entire operations, including sales, purchase, manufacturing, sub-contracting, receipts and payments.
Inventory
Manage both your raw material and finished inventory across multiple locations with barcodes and bins. Plan your material needs and schedule your purchase accordingly.
Finance
Complete set of tools to streamline your financial operations, such as maintaining ledger and journal entries, supporting tax calculations, and multicurrency transactions.
CRM
Manage entire customer lifecycle, from initial contact to final sales. Integrated functionality provides complete view so you can better understand and meet the needs
Analytics
SAP Business One Come with powerful analytics and reporting tools, so you can generate timely and accurate reports based on company-wide data.
Covers All Scenarios
SAP Business One with FashionNx covers various scenarios in Apparel & Footwear industry, including Make To Stock and Make To Order.
Advance Manufacturing
FashionNx adds advanced and detailed manufacturing to SAP Business One for Apparel, Garment, & Footwear Manufacturing. It lets you define operations and routings and gives you control through each step of manufacturing.
Variants & Matrix
Most critical aspect in Apparel & Footwear manufactuing is handling of colour and size variants. FashionNx uses MATRIX representation in Sales, Inventory and Production to represent all variants in same screen.
Warehousing & Barcoding
With FashionNx you can use barcoding for tracking raw material, finished goods as well as various documents in process. It also allows you to use BIN MANAGEMENT for tracking inventory in warehouse.
Available On Cloud & On Premises
SAP Business One with FashionNx is available on both On-Premises and On-Cloud, you can choose the deployment method which suits you best, depending on your business requirements.
The Benefits for Apparel & Footwear Manufacturing Industry
SECURE

Show details to registered customers, take orders, etc

INTEGRATED WITH SAP BUSINESS ONE

Allows for resilient, agile decision making.

PUBLISH ON GOOGLE PLAY STORE

Publish your app on Google Play Store / Apple iTunes.

MODERN DESIGN

Designed and developed using latest technologies with various features for usability.

EASY TO USE

Intuitive and easy to use, users can easily adapt without much training.

HOSTING

Hosted on our secure servers to ensure uninterrupted availability.

CUSTOMIZATION

We can even customize the app to suit your specific requirements.
Run the Show of Your Fashion & Footwear business at Peak with SAP Business One & FashionNX
Everything you need to run your Apparel, Garment, & Footwear Manufacturing Business, minus the Complexity
SAP Business One + FashionNX is a complete solution, customized for Apparel, Garment, & Footwear Manufacturing. It provides comprehensive functionalities to manage your entire business.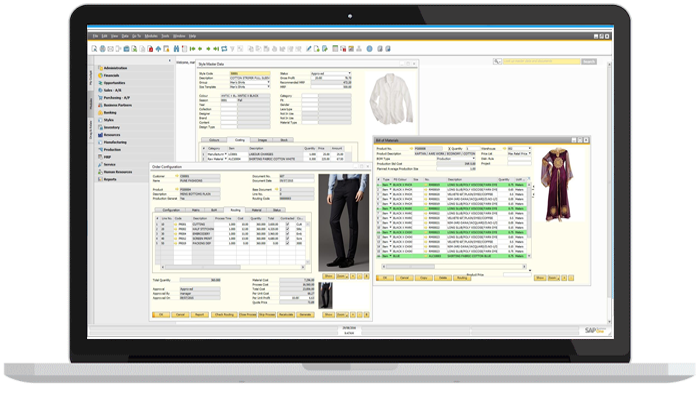 FAQ
SAP Business One + B1Bazaar is a customized solution that works wonders for the retail industry. It offers complete POS solution that provides both, front and back end functionalities.
Additionally it also lets you streamline & centralize business processes, operations, manage inventory, finances, CRM, provides latest critical analytics & data and gives a comprehensive view of your business at one place.
That's not all, with SAP B1+B1Bazaar you can also manage stores, whether it is a single store or a large chain. Since it is optimized for all kinds of retail businesses, it can easily manage grocery store, fashion boutique, high value electronics, and supermarkets.
Plus, if you're an e-commerce player that has online stores then it can help you manage it as well. Such functionalities and features make SAP Business One the best for any retail business.
Yes, you can easily connect and collaborate between your head office and store(s). SAP B1 & B1Bazaar's communication functionalities allow you to keep in touch with your employees and fellow workers.
Through various messaging systems & calls you can easily communicate across the company and keep tabs on the various activities and processes as and when they happen so that you don't miss a thing. All the aforementioned are easily synchronized between the HO and stores once connected.
SAP Business One can be deployed in three available options:
On-premise – Deployed on your IT hardware and infrastructure.
On cloud – Deployed on a Cloud Hosting Service of your choosing.
Hybrid – A mix of both On-premise and On cloud.
If you find yourself confused between the options then fret not as our SAP experts will help you figure out the best deployment option for your business based on its unique requirements.
Yes, your data comes with you. Our SAP team ensure safe transfer of your data from your legacy system to SAP Business One. They facilitate seamless data migration and keep you updated regarding the progress.
Kids Wear Fashion Giant Peppermint worked with Accelon to deploy SAP HANA. Now, real-time data analytics help it stay ahead of the competition.
The Cotton Company is a Fashion Apparel Company that combines the best of both worlds – Modern + Traditional. The Cotton Company provide their collections exclusively through their own network of retail outlets. The Garments are imported, planned, designed, manufactured and systematically controlled.
Super Knit Industries is one of India's pre-eminent manufacturers and exporters of premium and luxury socks since May 1999.