In today's fast-paced and competitive business landscape, small & medium businesses, especially retail, need efficient tools to streamline operations and enhance customer experiences.
One such tool that has proven invaluable for MSME retailers is the Retail Point-of-Sale (POS) software – B1Bazaar.
B1Bazaar is a comprehensive Retail POS software for all kinds of retail businesses. It allows you to manage inventory, customize menu & prices, manage staff & customers, generate sales reports and accomplish much more.
It expertly handles administrative, management, and marketing departments, making it one of the best ERP and POS for retail stores & outlets, both online and offline.
Plus it's optimized to run all kinds of retail businesses, be it a grocery store, fashion boutique, high-value electronics or a chain of stores or supermarkets. But even the aforementioned description of B1Bazaar is still selling it short. B1Bazaar is a complete retail package through and through. Nothing underlines this fact more than the features and benefits it provides.
This blog post will delve into the benefits and features that make B1Bazaar the best Retail POS system for small businesses. Let's dive right in
---
Powerful Point of Sale (POS)
B1Bazaar is a powerful Point of Sale (POS) software for retail stores that lets you automate and process billing quickly, synchronize data with the central data hub, and work seamlessly across all supported devices.
Stores that work Offline & Online
With B1Bazaar retail management and billing software for retail stores, you can easily run offline brick-and-mortar stores and online eCommerce marketplaces.
Efficient Inventory Planning & Control
B1Bazaar has comprehensive inventory control that allows for collaborative merchandising and a credit management system that brings efficiency to inventory planning and control.
Schemes & Vouchers to Attract Customers
Retailers can create multiple promotions, vouchers, and schemes designed to grab the attention and attract new customers.
Set Targets & Goals for Stores
Through its analytics-based processes, B1Bazaar provides live and up-to-date data that can be used to set targets and goals for all your retail stores.
Loyalty Programs to Retain Customers
Through B1Bazaar retail POS software, you can create and maintain loyalty points systems and define how your consumers can earn and redeem them. You also get the option to notify them regarding the points' expiration, further strengthening their loyalty.
Give Omni-Channel Retail Experiences
B1Bazaar addresses the concerns of Omni-channel retail business with ease. It seamlessly integrates various sales channels, both online and offline, to provide customers with a unified shopping experience.
Give Personalised Customer Experience
Thanks to features such as customised offers, personalized messages, and a production module to automate customized orders and customer-specific interactions at POS checkpoints, B1Bazaar retail point-of-sale software helps you give a personalized experience to your consumers.
Manage Store & Central Purchases
B1Bazaar's comprehensive store management allows stores to operate self-sufficiently. You can manage local vendors & purchases, store inventory, store accounting, run local store promotions & campaigns and more.
Retail + Production & Retail + Distribution
B1Bazaar can help in both – Retail Production and Distribution. It lets you easily manage production with Pre-Configured Industry use cases for various industries and in managing Direct-To-Customer Operations.
Manage Retail Finance & Overall Finance Ops
B1Bazaar lets you manage retail finance through the day-end closing at retail stores through the day-end process & provides detailed MIS and reports for the day-end closing. It also records and accounts for store expenses and other cash transactions.
360-degree Analytics of Retail & Business
B1Bazaar offers a 360° view of your retail business through smart analytics and business Intelligence. With pre-built reports and dashboards, you can access insights across all business functions like retail sales & and customers, purchases & and replenishments, inventory management, store accounting and retail work orders.
Along with it, you can easily manage overall financial operations with features like the chart of accounts maintenance, general ledger operations, accounts receivables process, accounts payables process, fixed assets management and banking activities.
---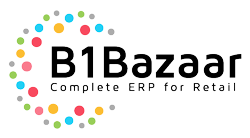 B1Bazaar ERP & POS for retail stores is a game-changer for micro, small, & and medium businesses looking to streamline operations, enhance customer experiences, and make data-driven decisions.
By investing in the right retail POS solution, retailers can stay competitive in today's dynamic marketplace while focusing on what truly matters – providing excellent products and services to their customers.
Want more helpful information about processes in SAP Business One? Or would you like a more in-depth understanding of SAP Business One? Then get in touch with Accelon - a Certified SAP Business One Gold Partner & the most reliable ERP software provider in India.